Graflex Announces Pocket Graphic
First APS Press Camera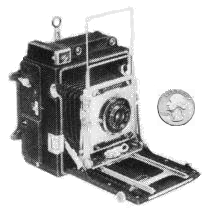 (Rochester, NY; 4/1/98)
Graflex today announced the Graflex Pocket Graphic, the first APS format Press camera. Designed to meet the needs of today's fast-moving press photographer, the Pocket Graphic is the world's smallest Press camera at 3.6" x 3.6" x 4.1" when opened, and only 1.2" deep when closed.
In announcing the move away from 4x5" sheet film, Graflex spokesperson April Dupre said, "The Pocket Graphic is the latest in the Graflex line of modern-film cameras. We believe that APS film will soon take the place of Kodak Pack Film, or maybe vice versa." (Kodak discontinued film packs when the last two employees making them retired.)
Besides its compact size, the Pocket Graphic offers all of the advantages photographers have come to expect with the APS film system.
Convenient small negative size

---

Easy Loading film system with simple film use indicators:

Graflex believes photographers will find this simple system much easier to understand than the difficult "dark slide" or the Grafmatic "red means exposed" rules. Just follow the easy directions below:



---

Up to one megabyte data storage on each film frame (saves money on floppy disks):

Graflex realizes that we all need to economize, and so the Pocket Graphic leaves the magnetic data area on APS film completely open to the photographer's use, so you save money on floppy disks. See this simple chart for instructions.


---

Manual control of image format


Since the APS print formats all produce the same size image on the same size film, switching among different print formats really does nothing more than change the viewfinder view and instruct the printer how to crop the photo. The Pocket Graphic gives the Press photographer separate control of these two features, and allows for manual use of viewfinder masks.
Graflex would not comment on whether the Pocket Graphic would be compatible with the previously-announced Grafocus Back.

-30-
---
Brought to you Graflex.Org